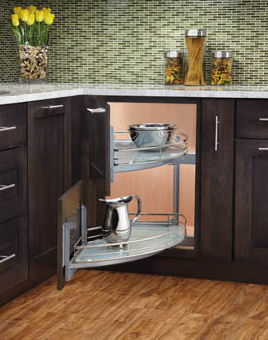 1—Storage Options: From spice cabinets in drawers to appliance shelves that pop up out of cabinets, to vertical utensil racks and pot lid organizers, the sky is the limit.  Visit our guide for a list of options.
2—Display Space: The days of storing a plant above a cabinet are over.  These days it's all about creating nooks and open space for displaying ornate glass pieces , art, or some other collectible.  See a great example of display space here.
3—High-Quality Finish: A great finish can take a cabinet from ordinary to a real work of art.  Trends now are leaning toward a stain and glaze combination—accentuating grooves and embellishments.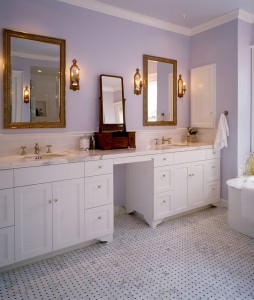 4—The Look Of Furniture: Adding "feet" to the base of an island or section of cabinetry gives the welcoming feel of furniture.  Decorative molding on the top of upper cabinets also does the trick.  Carry that same free-standing look to other rooms in the house for a look of continuity.
5—Open Cabinetry: Many people now are opting for an open feel in their cabinetry.  This is accomplished by creating shelves instead of boxes, putting glass in cabinet doors, or simply removing the doors altogether. See an example of open cabinetry here.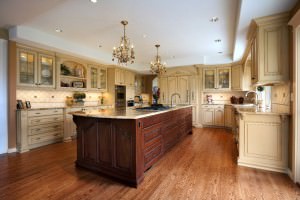 6– Accent Cabinetry: Consider setting cabinetry off with varying colors or woods.  For example, an island that is a different color than the rest of the kitchen.  To tie the look in, match the dining or breakfast table with the island.  You can also paint a section of cabinetry a different color than the rest of the cabinetry in the room.