Contact Us

Connect with Us

Our Testimonials

"The cabinet and drawers are all wonderful.  We are so happy with them and with you.  Thank you so much!"

"It has been such a pleasure working with Vision Woodworks.  The quality and craftsmanship of your cabinetry are exceptional.  The family room desk is both beautiful and functional.  It's so nice to have a central location for the boys to study and do their homework.  The cabinetry and woodwork in the master bedroom and bathroom are the focal points of each room and have helped create the tranquil and soothing atmosphere we were trying to achieve.  We love it all!"

Kristine F., Homeowner
About
Sure, we build custom cabinets. But with those cabinets comes a passion for building, a constant desire to excel, and a history of promoting long-term relationships with people.
How can we be partners in your vision?
Our History
As a young teenager, Adrian Burwell, along with his brothers and dad, built 'tic-tac-toe' boards and other wood crafts in the family's South Texas garage. Even at that young age, Adrian had an enterprising spirit about him. He began selling his creations through shows and open houses, saving his money to begin buying woodworking tools.
A few years later he jumped at the opportunity to apprentice under an experienced cabinetmaker in the Northwest. From those years as an apprentice a grand vision was born: a vision of building a custom cabinetry business—his own business—while continuing to work with his family members.
That same enterprising spirit moved the entire family across the country to begin a business together. With hard work, faith in God, and growing partnerships with area builders, they worked to carve out a market niche at a time when there was a lot of great competition in the area.
Today, Vision Woodworks is a thriving small custom cabinetry business that hasn't forgotten its roots.
Our Process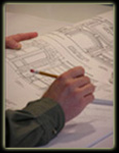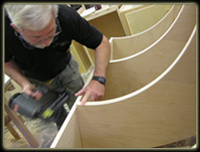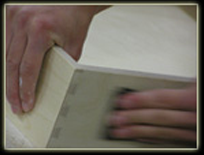 From our first design meeting, to selecting fine woods, to adjusting the last hinge, custom woodwork is a hands-on process. The professional craftspeople in our family-owned and operated shop give careful attention to the precise details of each cabinet.. Design, construction, finish, and installation are all customized to fit your needs.
Unlike the cookie-cutter selection available from pre-built or semi-custom cabinet dealers, we work with you and your design professional to craft cabinetry to your specifications. Our experienced staff will visit your home, take the time to understand your needs, and share our expertise in selecting the best materials to fit your tastes and lifestyle.
Want the contemporary look of wenge or bamboo? No problem. Prefer the look of traditional furniture quality pieces? Just look at the examples in our gallery! Looking for kitchen cabinets, bathroom cabinets, or cabinetry for your home office? Whatever your personal style, or the challenges offered by your existing space, Vision Woodworks is recognized for excellence in crafting beautiful cabinetry.
We custom match our finishes to your existing woodwork or your own ideas for a perfect cabinet. Glazed, dyed, stained, distressed, brushed – the possibilities are virtually endless.
Vision Woodworks also offers delivery services and professional cabinet installation, so we can assist you each step of the way. When can we start working together on your project?
Organizations



We're proud members of National Kitchen & Bath Association, National Association of Home Builders, and Master Builder Association.