View this month's newsletter on computer rendered drawings, and learn how this technology is helping homeowners visualize their dream space on paper.
Computer rendered drawings are extremely helpful in showing homeowners how their "dream space" will actually look.  It's one thing to spout off ideas as you enter their bathroom, and it's quite another to give them a futuristic picture of all those ideas on paper.
At Vision Woodworks, we have the advantage of not only showing how ceiling-height cabinets will look in a kitchen, we can show you specifically what dark-stained Cherry cabinets would look like, and how that compliments the black granite you've just picked out.  It's a technology that we've worked hard to master, and are quite pleased with the results.
Computer rendered drawing: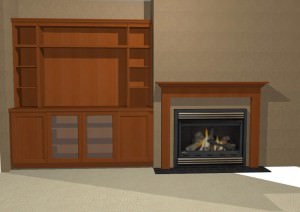 Completed project.  Notice how closely it resembles the rendered drawing.