Contact Us

Connect with Us

Our Testimonials

"The cabinet and drawers are all wonderful.  We are so happy with them and with you.  Thank you so much!"

"It has been such a pleasure working with Vision Woodworks.  The quality and craftsmanship of your cabinetry are exceptional.  The family room desk is both beautiful and functional.  It's so nice to have a central location for the boys to study and do their homework.  The cabinetry and woodwork in the master bedroom and bathroom are the focal points of each room and have helped create the tranquil and soothing atmosphere we were trying to achieve.  We love it all!"

Kristine F., Homeowner
News & Events
5 GREAT THINGS TO DO WITH YOUR OCTOBER
Check out this fun and practical guide on things to do this month!

Check out our past Vision Woodworks monthly Newsletters!
EDUCATE YOURSELF ON CABINETRY
This month's newsletter is extremely practical for anyone considering new cabinetry.  Learn the difference between truly custom cabinetry versus semi-custom or box cabinetry, and what you get with each.  You'll find the cost difference will surprise you.
We recently spoke at 2 community events about maximizing your space and style with custom cabinetry. One of the things we did was educate people on the difference between truly custom, semi-custom and box cabinetry.
The word "custom" is a highly used word. It's used by truly custom cabinetry shops, as well as semi-custom and box cabinet shops. With true custom your space dictates their system. Semi-custom and box cabinetry force your space work within their system.
With truly custom cabinetry, the initial price will almost always look higher.  We've had multiple contractors come back to us after their clients chose to go with semi-custom or box cabinetry and tell us that the cost difference between our cabinets and the ones they got were negligible once the installers and finishers billed for their time to monkey with the cabinets to get them to fit the space properly.
When all is said and done, what do you get with each?
| | | |
| --- | --- | --- |
| | Custom | Semi-custom/box |
| Wood | ¾" Thick plywood | Particle board or melamine |
| Hardware | High-quality to last | Low to mid quality, to cut cost |
| Drawers | Full-extension 21"-22" deep | Full-extension 18" deep to cut cost |
| Ease of installation | Easy; perfect fit | Requires hours of manipulation. |
| Measure | To nearest 1/16th inch | To nearest 3" |
| Space used | Maximized | Wasted space |
| | | |
| --- | --- | --- |
| Initial price | Usually higher | Usually lower |
| Net price | Usually negligible to semi-custom and box cabinetry | Usually negligible to custom, minus the features that come with custom |
SECOND COMMUNITY EVENT A SUCCESS
Last night was fabulous! We teamed up with April Bettinger of Nip Tuck Remodel and Laura Leist of Eliminate Chaos to bring a fun event to the Issaquah community. A huge THANK YOU to Molly, Adam, and that fabulous waitress at the Sip restaurant in the Issaquah Highlands! They were absolutely fabulous, and the food was outstanding. Thank you to all who came out – you made the event a success!
WE'RE GEARING UP FOR OUR FIRST EVENT THIS MONDAY, SEPTEMBER 19TH AT 5:30 PM!
Come out and see us – bring friends and family!  It's going to be a great evening of food, fun and great ideas for organizing and re-styling your home.  RSVP to Jill@VisionCabinetry.com .
See invitation below, or CLICK HERE to view the invitation.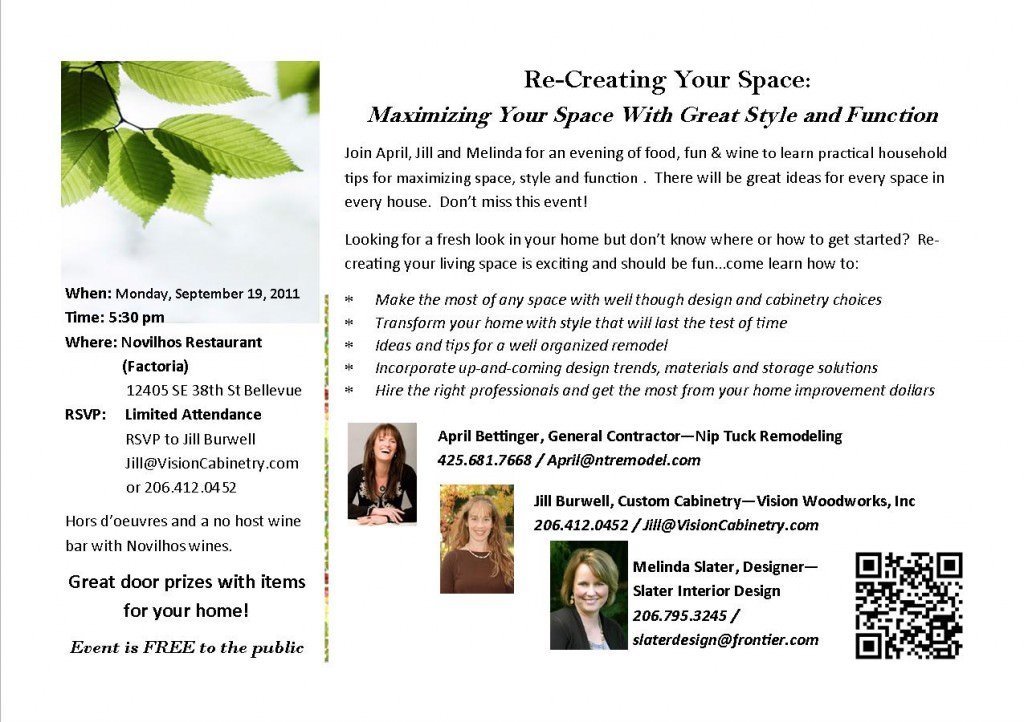 COMPUTER RENDERED DRAWINGS: Using Technology to Accurately Show Possibilities
View this month's newsletter on computer rendered drawings, and learn how this technology is helping homeowners visualize their dream space on paper.
Computer rendered drawings are extremely helpful in showing homeowners how their "dream space" will actually look.  It's one thing to spout off ideas as you enter their bathroom, and it's quite another to give them a futuristic picture of all those ideas on paper.
At Vision Woodworks, we have the advantage of not only showing how ceiling-height cabinets will look in a kitchen, we can show you specifically what dark-stained Cherry cabinets would look like, and how that compliments the black granite you've just picked out.  It's a technology that we've worked hard to master, and are quite pleased with the results.
Computer rendered drawing: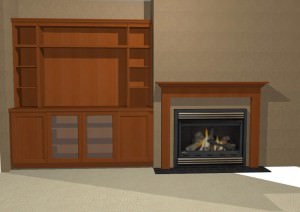 Completed project.  Notice how closely it resembles the rendered drawing.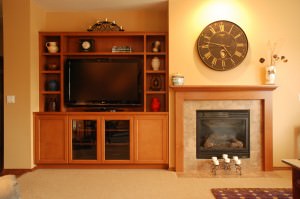 SEATTLE LINEAR BATHROOM